India's biggest and best poker pros!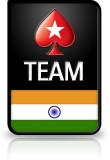 Team India has achieved huge success online and live, and is helping to inspire new players from the nation. The line-up includes:
Aditya Agarwal: Multiple World Series cashes
*World Series of Poker and WSOP are trademarks of Caesars License Company, LLC ("Caesars"). Caesars does not sponsor or endorse, and is not associated or affiliated with PokerStars or its products, services, promotions or tournaments.