The likes of Harry Kane and Mohamed Salah are being rightly celebrated for banging in the goals this season, but not all goals are created equal. The last goal in a one-sided rout is far less valuable than one which breaks the deadlock or secures a narrow win, so we wanted to find out which players' strikes are the most important to their team's success.
To do this, we've measured the impact of each goal and isolated those which changed games, focusing on two distinct types.
Firstly – and most importantly – are match-winners, which we've defined as the latest goal in a match which gave the winning side the lead. Each of these is technically worth two points, as it took one team from a situation where they were on track to win one point to gaining all three.
Secondly we have equalisers, which in similar fashion we've defined as the last goal in a match which was drawn. These are worth one point, as they rescue a point for a team which was set to finish the game with nothing.
Premier League
When we apply our methodology to the Premier League, it is Manchester City's Kevin De Bruyne who leads the way. Of the seven goals and 14 assists he has contributed this season, 10 of them have broken the deadlock decisively in favour of Pep Guardiola's side, crediting him with a whopping 20 points.
Following in his wake is the in-form Harry Kane of Tottenham with 17 points in the form of seven winners and three equalisers to keep his team in the hunt for a top-four finish.
There are several ties in our ranking where players can lay claim to the same number of points; we've settled these by rewarding players who have achieved the same feat in fewer minutes on the pitch this season.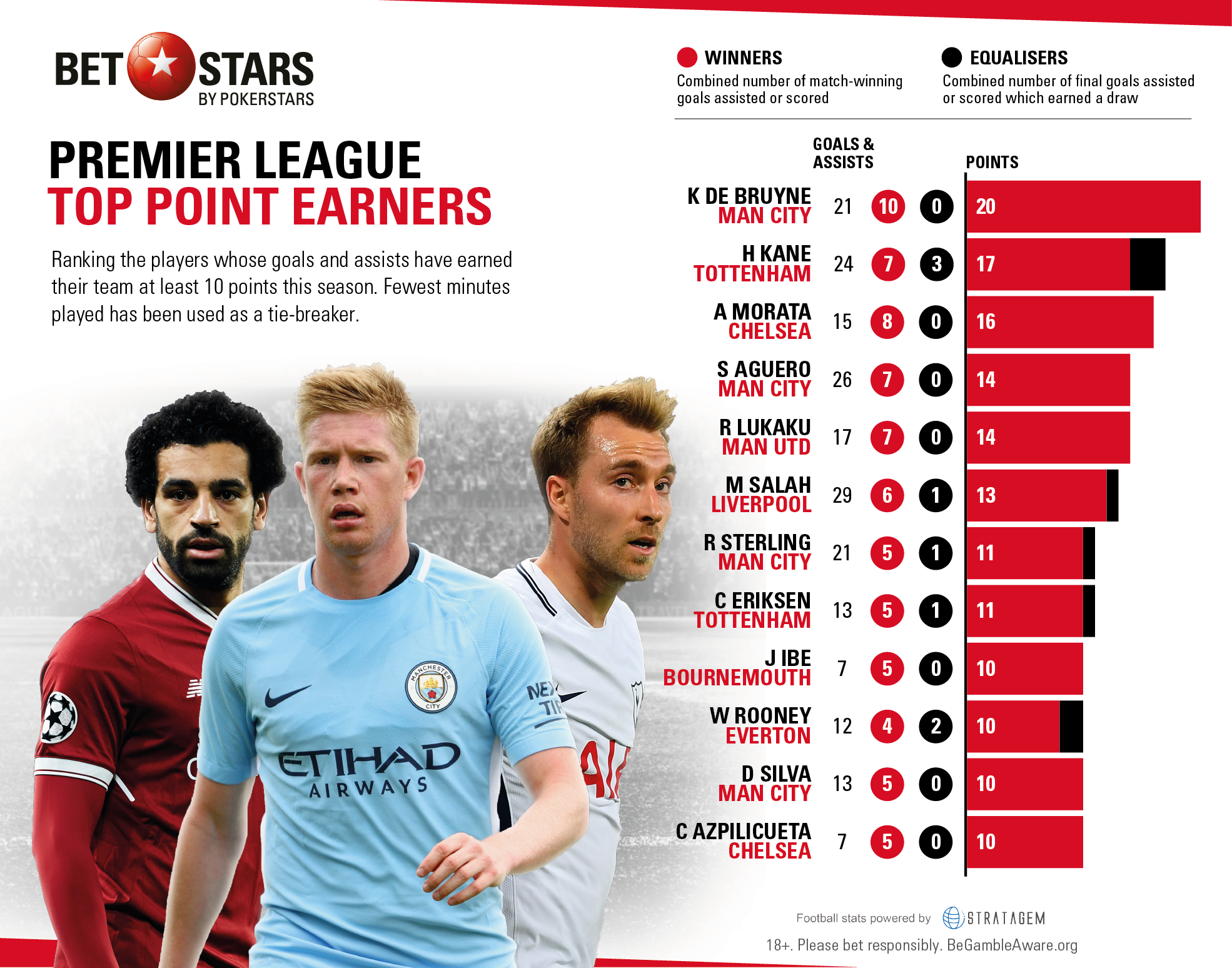 We have also identified each club's top points earner, which throws up a few interesting names.
While it will surprise nobody to learn that the likes of Salah, Romelu Lukaku and Alvaro Morata are their club's most valuable attackers this season, the fact that Jordon Ibe has helped to secure 10 points for Bournemouth or that veteran striker Peter Crouch remains Stoke's most decisive player are more eyebrow-raising.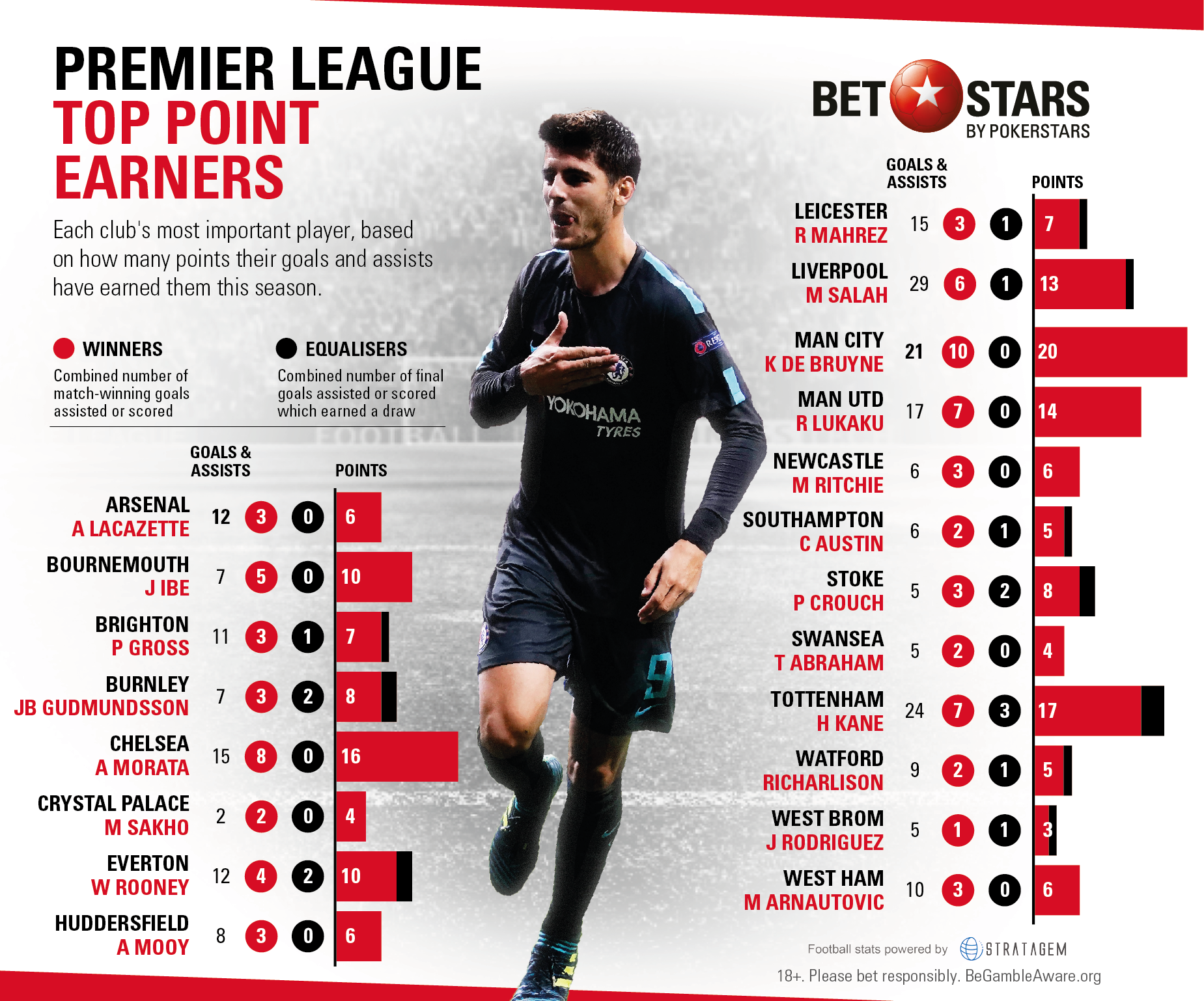 Championship
We have also cast our eye over each of the three EFL divisions to see who is making their teams tick.
Norwich's young midfielder James Maddison leads the way in the Championship with 19 points to his name, closely followed by Aston Villa's Albert Adomah and Matej Vydra of Derby. Three players from runaway leaders Wolves also make the top 10.
League One
In League One, the top two berths are both occupied by players from overachievers Shrewsbury; Shaun Whalley and Stefan Payne.
Whalley leads the way with 14 points accrued from his 12 goals and assists, while Payne is one of six third-tier players to have had a hand in 12 of his team's points. He takes second place due to how few minutes he has played, having been on the pitch for only half as long as his team-mate.
There is also room in the top 10 for two Wigan players; former Manchester United starlet Nick Powell and their recent acquisition Devante Cole, son of Premier League legend Andrew.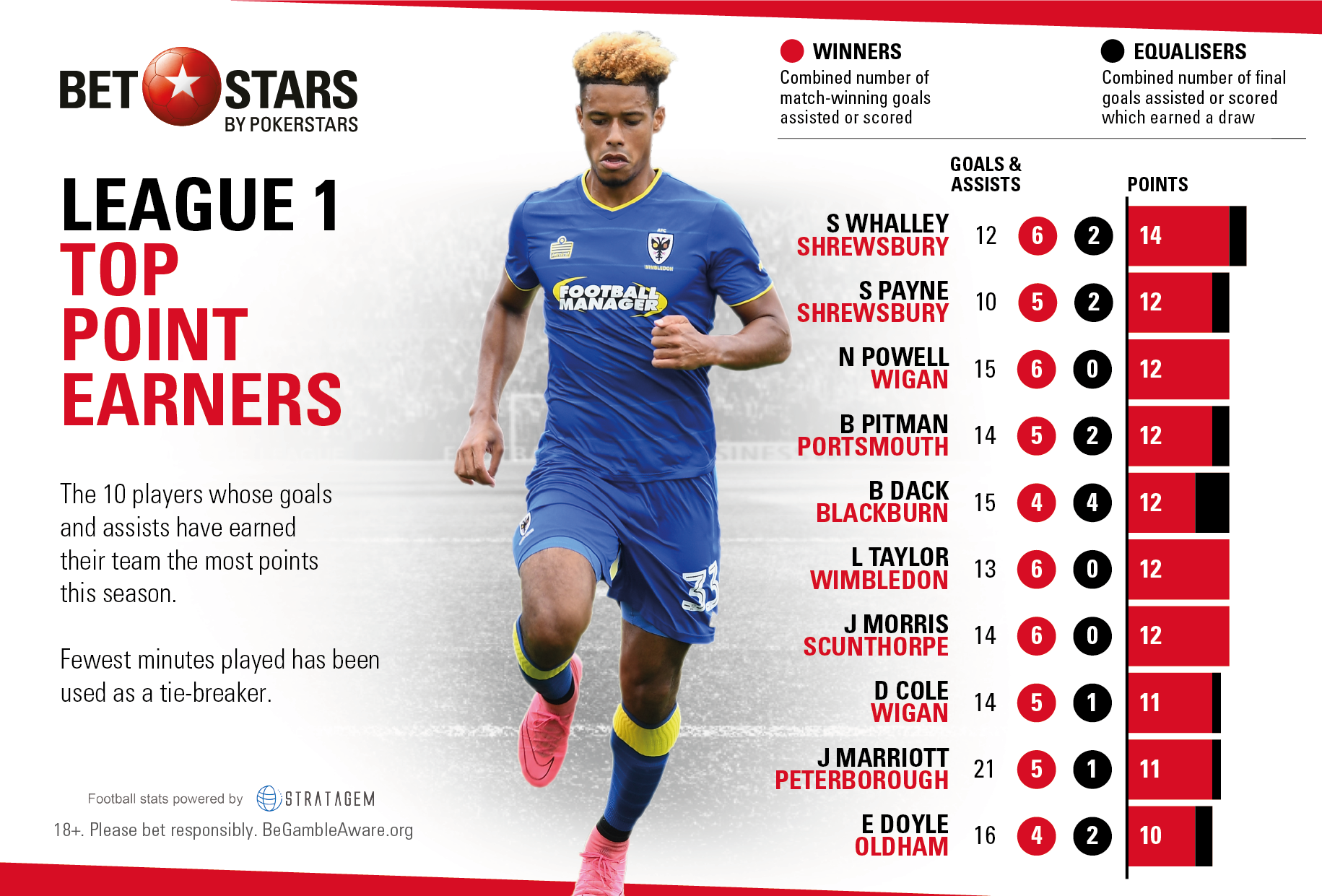 League Two
The top 10 in League Two are all trailing in the wake of Accrington's Billy Kee, who has been the difference for 23 of Stanley's points this season.
Nobody else has accounted for more than 15; a tally shared by Coventry's Marc McNulty and Jorge Grand of Notts County. Both the Magpies and Accrington have ambitions of promotion this season and it is probably no coincidence that they each have another player in the top 10.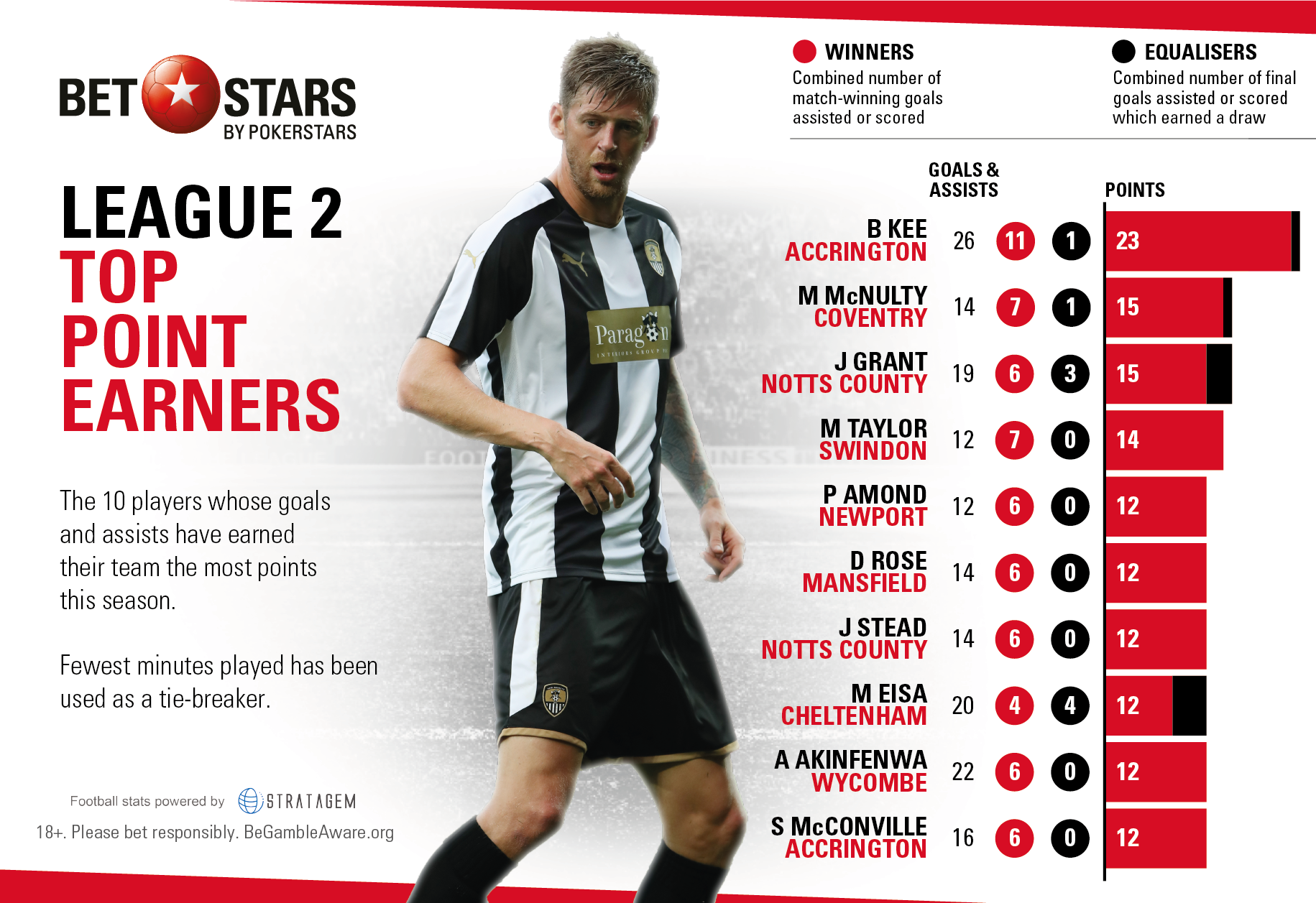 Premier League 80 minute offer – We're giving money back as a Free Bet up to $/£20 if a goal after 80:00 turns a winning Match Result bet into a loser. Min odds 1/2 (1.5). T&C's apply.