It may have taken only five minutes for Samuel Murer to turn €10 into €100,000, but it was a win that came after long preparation.
By day Samuel works at a renowned local eyewear company in the mountain village of Santa Giustina, Italy. When he isn't there he spends much of his time playing poker online as "Wheisenber87." After 10 years in the game, Samuel has become a specialist in Spin & Go tourneys, which he loves due to the sheer traffic they receive. Between playing and studying the game with a coach, he estimates he spends 80 hours a week online.
Poker has, in essence, become Samuel's second job — one that just paid off in a major way.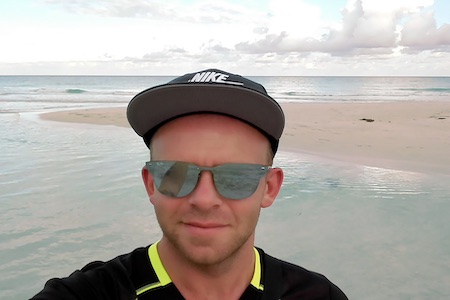 €100,000 Spin & Go winner Samuel Murer
"To be honest, when I saw a strange color on the screen, I thought something had gone wrong!" Samuel told the PokerStars Blog. "I was playing on several tables and I did not realize immediately that I had found the maximum multiplier."
Samuel felt his adrenaline began to rise, but he reminded himself to keep his concentration. He'd already gotten lucky with the spin. How the rest went was up to him.
His first key pot came after firing three barrels with A♥7♦, which had flopped top pair, top kicker. Each bet came on an increasingly coordinated 4♠6♦7♣Q♠9♦ board and each drew a call before his opponent finally folded on the river. Then Samuel jammed out of position before the flop with 5♥5♣, which held up against the same opponent's K♣J♣ to take the game heads-up.
Holding twice the chips of his opponent, Samuel made one tiny change to his normal strategy when he picked up K♠K♣ on the button. "Normally I would have only completed the bet, trying to induce my opponent to shove," he said. But the fear of blowing up if his opponent got lucky led him to min-raise instead. No blow up, just a fold.
In the end Samuel got to see a free flop in the big blind with T♠5♥ and caught two pair. He checked, inducing a bet from his opponent, and then jammed. The other player called with middle pair and a backdoor flush draw, and after the 2♦ turn and 9♣ river Samuel won the €100,000 top prize.
Even after all the study and preparation, it was a stunning moment.
"I took a few minutes to understand if it was a dream or reality!" said Samuel. "Then I called some friends and my coach. I did not celebrate right away, I went to work and then the party started on the weekend."
Part of the prize will go to paying down the mortgage. And the rest? It's earmarked for a step up to €25 buy-in Spin & Go tourneys that Samuel had already anticipated. Thanks to all the work he's already put in, the next step in his second career is right in front of him.
---
Nicola Pagano of the Italian PokerStars Blog conducted the interview with Murer and contributed to this report.
Back to Top
Quick Links
Learn
Chat with us
Watch and share